DEVELOPMENT OF AN IoT-BASED KNEE EXOSKELETON DEVICE FOR REHABILITATION THERAPY MONITORING
Keywords:
Knee rehabilitation therapy, IoT-based exoskeleton, Remote monitoring
Abstract
The COVID-19 pandemic has presented a multitude of challenges pertaining to medical treatments and patient care, creating a pressing need for innovative solutions. Constrained outdoor activities have hindered patients' ability to access essential healthcare, while healthcare professionals encounter difficulties in remotely monitoring and administering treatments. This study aims to address these pressing issues by proposing an Internet of Things (IoT)-based exoskeleton system designed for the monitoring of knee rehabilitation therapy. Through the utilization of the IoT platform ThingSpeak, this developed system enables patients to remotely monitor the status of their knee recovery from the comfort of their homes. The collected data is securely stored and made accessible to healthcare professionals, facilitating remote analysis and the formulation of treatment recommendations. This pioneering solution amalgamates advancements in exoskeleton technology with seamless IoT integration, establishing a dependable and easily accessible framework for the monitoring of knee rehabilitation. By empowering patients to actively participate in their own recovery process and enabling remote monitoring by healthcare providers, this system effectively surmounts the limitations imposed by the pandemic and financial constraints. The proposed IoT-based exoskeleton system possesses the potential to revolutionize knee rehabilitation therapy, thereby enhancing patient engagement, optimizing treatment outcomes, and circumventing traditional healthcare barriers.
References
Jensen J, Lundin-Olsson L, Nyberg L, Gustafson Y (2002) Falls among frail older people in residential care. Scand J Public Health 30(1):54–61.
Rabago D, Zgierska A, Fortney L et al. Hypertonic dextrose injections (prolotherapy) for knee osteoarthritis: results of a single-armed uncontrolled study with 1-year follow-up. J Altern Complement Med 2012; 18:408–414.
Freeman C, Tong D, Meadmore K, Hughes AM, Rogers E, Burrideg J (2012) FES based rehabilitation of the upper limb using input output linearization and ILC. In: Proceedings of the 2012 American Control Conference, 4825–4830.
Sfar AR, Zied C, Challal Y. A systematic and cognitive vision for IoT security: a case study of military live simulation and security challenges. In: Proc. 2017 international conference on smart, monitored and controlled cities (SM2C), Sfax, Tunisia, 17–19 Feb. 2017.
Gatsis K, Pappas GJ. Wireless control for the IoT: power spectrum and security challenges. In: Proc. 2017 IEEE/ACM second international conference on internet-of-things design and implementation (IoTDI), Pittsburg, PA, USA, 18–21 April 2017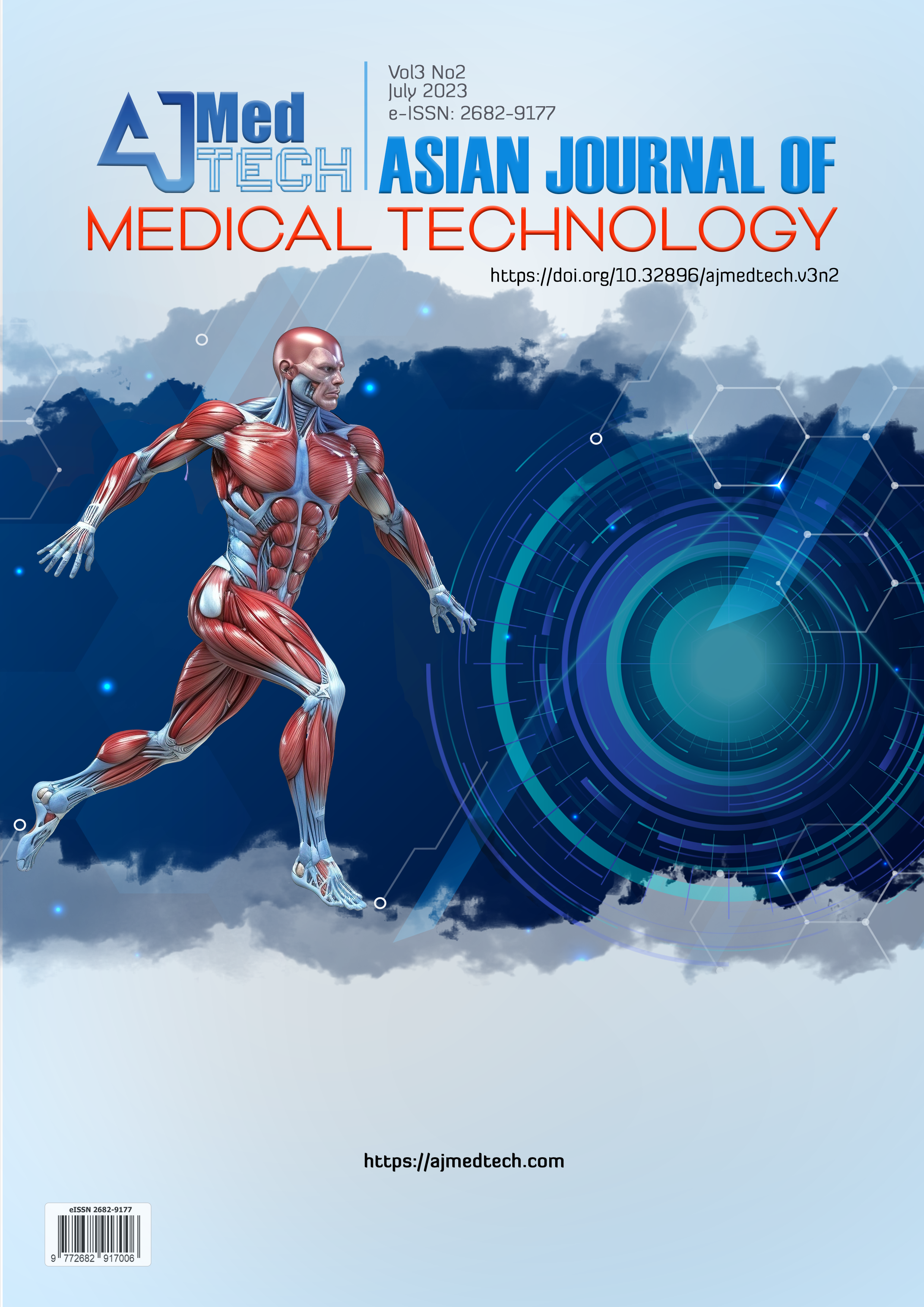 How to Cite
SAPIEE, M. R., Thomas, T. T. R., Marhaban, M. H., Ishak, A. J., & Miskon, M. F. (2023). DEVELOPMENT OF AN IoT-BASED KNEE EXOSKELETON DEVICE FOR REHABILITATION THERAPY MONITORING. Asian Journal Of Medical Technology, 3(2), 33–43. https://doi.org/10.32896/ajmedtech.v3n2.33-43
License
This work is licensed under a Creative Commons Attribution-ShareAlike 4.0 International License.